"Crafts is always stellar, both on stage and in the directorial chair."
Gregory Crafts is an award-winning and critically acclaimed multi-hyphenate creative artist, with more than thirty years of industry experience as an actor, playwright, director, designer, and producer.
After graduating from Emerson College in Boston, MA with a Bachelor's in Theatre Studies in 2003, Greg migrated to Los Angeles, California, where he currently plies a multitude of trades that allow him to flex his creative muscles. He resides in North Hollywood, CA with his wife, Jenn, and their cats.
In 2008, Greg co-founded Theatre Unleashed, a 501(c)(3) non-profit theatre ensemble based in Hollywood, CA, and he proudly serves as the company's Executive Director.
Greg is also a member of SAG-AFTRA, Actors' Equity, the Dramatists Guild, a Lifetime Member of the Alliance of Los Angeles Playwrights, and a founding board member of the Theatre Producers of Southern California. He has also previously served as a board member of the Hollywood Fringe Festival and Flat Tire Theatre Company.
In late 2016, Greg and his wife Jenn teamed up to form a live event venue management company. On January 1st, 2017, the pair took control of studio/stage, a unique 40-seat performance space located in L.A's Koreatown. Now working under the banner of The StageCrafts, Jenn and Greg are always seeking new venues to add to their portfolio.
With what little free time he has, Greg enjoys supporting local theatre, reading banned books, making "to do" lists, shotgunning Star Trek reruns, memorizing Epic Rap Battles of History lyrics, fine-tuning his websites, torturing himself through 5k mud runs, livestreaming his Dungeons & Dragons sessions, and practicing Tae Kwon Do. He also nurses an unhealthy obsession with the Boston Red Sox.
Think Vince Vaughn as played by Bruce Campbell
Goofy, Warm, Friendly, Outgoing, Confident, Casual Average Joe with the essence of a Best Friend, Neighbor, or Boyfriend, who can play a Hacker/Coder, Writer, Computer Tech, or Comic.
Headshots by Joe Hubbard of Vanie Poyey Photography
Gregory Crafts' Acting Demo Reel
Gregory Crafts' Commercial VO Reel

Hitchcock Lane by Soda Persi
Gregory Crafts as "He" in Still Here, part of Hitchcock Lane by Soda Persi, presented by Fierce Mama Productions at the 2023 Hollywood Fringe Festival.
A world premiere from acclaimed artist Soda Persi, Hitchcock Lane is a touching and dramatic collection of short scenes following ten neighbors in five homes on the same street in a pivotal moment in each of their lives. Interwoven with movement by Persi and original music from Michael Van Bodegom-Smith, this new work directed by Richard Piatt invites the audience into the homes of familiar characters dealing with their struggles while also remembering to laugh, love and live before it's too late.
Sunny Afternoon by Christian Levatino
Gregory Crafts as Det. Richard "Dick" Simms in Sunny Afternoon by Christian Levatino, produced by Gangbusters Theatre Company. Part of the Black Bag Pentaology.
Being the adventure of young Lee Harvey Oswald in the custody of Dallas Homicide Captain Will Fritz - where they discuss; Baynes Barron, Russia, Coca-Cola, Jim Brown, a mysterious package, backyard photographs & Friday afternoon in Dealy Plaza.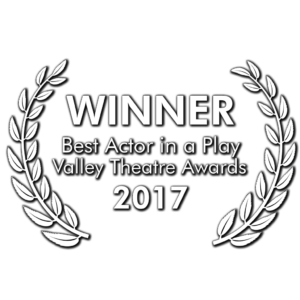 Of Mice and Men by John Steinbeck
Gregory Crafts as Lennie Small in Of Mice and Men by John Steinbeck at Theatre Unleashed.
"Crafts gives a subtle but provocative performance."
- The Geek Authority
George, an affable migrant farm worker, and Lennie, a towering simple-minded pleasantly humble young man, are the subjects. They are bound by George's devotion and Lennie's "pathetic helplessness". George's guardianship keeps Lennie out of trouble, but we soon see this is a slippery slope. Lennie's displays of love result in several deaths ranging from mice and puppies to a beautiful woman. Eventually, in the face of a lynch mob, George kills Lennie to put him out of his misery.
"Having seen this role played many times, [Crafts]' is one of my favorite takes..."
- The Geek Authority
"WOW! Spencer Cantrell and Gregory Crafts give riveting performances..."
- StageSceneL.A.
"…as Lennie – a difficult role, as it's easy to play it as cliché or caricature – Mr. Crafts expertly conveys the man's innate dignity and goodness, his simple delight in dreams of having rabbits to pet, and, ultimately, his sorrow and recognition that his 'bad things' have bollixed everything up."
- The Los Angeles Post
"Cantrell and Crafts deliver powerhouse performances. The duo's chemistry was truly infectious and heartwarming."
- Fanbase Press
"...Lennie, a role that an equally splendid Crafts invests with such genuine purity and goodness of spirit that George's decision to stick by him makes perfect if perhaps misguided sense."
- StageSceneL.A.
"Both Cantrell and Crafts do well together independently on stage and as part of the ensemble cast."
- Gia on the Move
"Crafts has the most difficult role to play, but navigates it with genuine unpremeditated emotional resonance."
- Gia on the Move
Ada and The Engine by Lauren Gunderson
Gregory Crafts as Lord Lovelace in Ada and The Engine by Lauren Gunderson at Theatre Unleashed.
"Gregory Crafts and Alex Knox gave faultless performances."
- Ernest Kearney, TheTVolution.com
As the British Industrial Revolution dawns, young Ada Byron Lovelace (daughter of the flamboyant and notorious Lord Byron) sees the boundless creative potential in the "analytic engines" of her friend and soul mate Charles Babbage, inventor of the first mechanical computer. Ada envisions a whole new world where art and information converge—a world she might not live to see. A music-laced story of love, friendship, and the edgiest dreams of the future. Jane Austen meets Steve Jobs in this poignant pre-tech romance heralding the computer age.
"As his putative rival, Mr. Crafts is suave and elegant, projecting aristocratic confidence which devolves into withering fury and eventually an icy detachment which allows him to walk away from his dying wife."
- Dan Berkowitz, L.A. Post
"[Lovelace] could very easily have become nothing more than a thoughtless smug figure of a husband but [director Heidi] Powers and [Gregory] Crafts avoid that oversimplification, endowing him with a real love for a wife he can never truly understand."
- Christine Deitner, The Theatre Times
"[Crafts] shines just as well... I applaud his ability to transform the role into such a sympathetic character, his final moments with Ada on her deathbed are heartbreaking and tragic. "
- Mike Reyes, Mike-Check.com
"[Alex] Knox and [Gregory] Crafts are each excellent as the men who both love Ada and yet are eclipsed by her."
- Ernest Kearney, TheTVolution.com
"Crafts had a different role: the husband of someone who didn't understand his wife having a technical relationship and friendship, but who learned how satisfaction of that aspect of his wife's nature made her whole. Anyone who is married to an intellectual or a scientist understand that well, and I think Crafts portrayed it right."
- Daniel P. Faigin, Observations Along the Road
Round Rock by Aaron Kozak
Gregory Crafts as Seaborn Barnes in Round Rock by Aaron Kozak, presented by Theatre Unleashed.
"Gregory Crafts excels as Seaborn Barnes."
- L.A. Theatre Examiner
Round Rock  is the Texas legend of the Sam Bass Gang, a group of notorious outlaws in the late 1800's best known for committing one of the largest train robberies in U.S. history. At the center of a jurisdictional crisis between the old and new law enforcement agencies of America, the gang must choose between a life of adventure and a life of convention. A story about love and friendship, this Western epic from acclaimed playwright Aaron Kozak (The Birthday Boys) blends old fashioned rustic charm with a darkly comic style.
"[Crafts] is believable and authentic, taking the audience back over 100 years to a time and a place one only reads about but can no longer visit."
- ReviewPlays.com
Sleeping Around by Cesar Abella
Gregory Crafts as Sam in Sleeping Around by Cesar Abella, presented by Theatre Unleashed at the 2015 Hollywood Fringe Festival.
"Superstar Gregory Crafts, for instance kills with comedy in one scene then kills with heartbreak in the next."
- Actor Jim Hanna
Sex is easy. Love is hard. Sleeping Around interweaves the stories of nine very different people searching for intimacy and all connected by sex, relationships and the sometimes hysterical, sometimes crushing emotional baggage of both.
"[Crafts'] chemistry is abundant..."
- The Geek Authority
"Recommended: Martyka and Bell's sequence is particularly powerful – and so is the nicely pitched emotional scene between Cire and [Gregory] Crafts."
- Stage Raw
"Highlight performance was Eric Cire, and the work between him and his scene partner Gregory Crafts elegantly navigated the line between in your face and underplayed."
- Playwright Aaron Kozak
Sign Up For My Newsletter!
It's like Patreon, but free! Sometimes I even send out discount codes to shows I'm in or early access links to projects I'm working on through here.